How to copy pictures from your iPhone to Windows
The iPhone's built-in camera makes it easy to snap decent quality photos, but the process for copying those photos to your computer using iTunes is clunky and a little different than you'd expect from most digital cameras.
Fortunately it's easy to just copy photos from your iPhone to your PC using Window's built-in photo importer.
1. Plug in your iPhone to your computer using the usb charging cable that comes with your iPhone. Windows will detect your iPhone and ask you what you'd like to do:
2. Click "Import pictures" to start the import process.
3. Enter a keyword tag to let you easily find your pictures after they've been uploaded to your computer. The keyword tag will be used for the folder name that's created during the import.
4. Click the "Import" button to start the import process. You can also choose to remove photos from your iPhone once they've been uploaded.
Once your photos have been copied over to your computer, Windows will open the Photo Gallery and will show you the pictures you've just uploaded.
Can I also transfer contacts and songs?
You can also transfer contacts using iMacSoft, which has a lot of other features that let you transfer songs, videos, ringtones, voice memos, audio books, and even text messages.
iMacSoft loads your iPhone as if it were an external hard drive, and gives you tools for managing literally everything on your iPhone.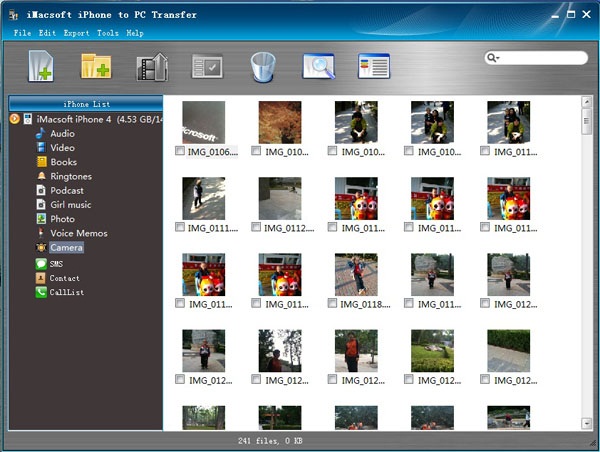 You can also use iMacSoft to transfer files the other way - from your PC to your iPhone.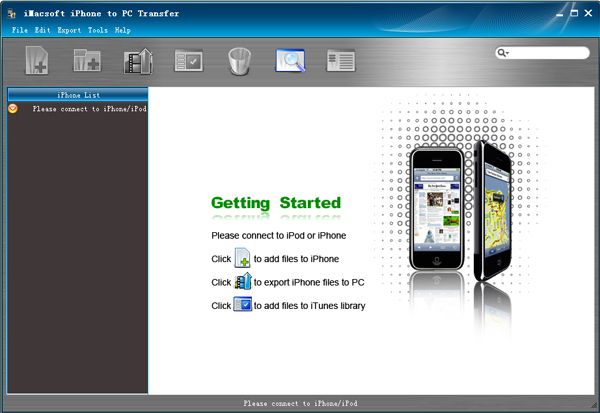 If you're looking for a comprehensive tool for managing your iPhone files including photos and contacts, then iMacSoft is definitely worth downloading.